How is this book different from any healthy cookbook?
BODY WISDOM: NATURAL HEALTH IN YOU | DETOX PROGRAM is a simplified detox program that includes pointers on how to detox your home and kitchen, how to cleanse your mind from negativity, how to modify your habits over time with a trademarked behavior modification program, and how to customize an eating plan based on the needs of your body. It then offers recipes to get you started. The recipes in the book show how to replace ingredients. Your final recipe collection may be very different from the recipes we share. It will be your personalized plan with your favorite foods-except now they will not be toxic.
How is this program different from any other detox program?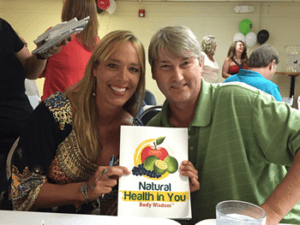 BODY WISDOM: NATURAL HEALTH IN YOU | DETOX PROGRAM This is not just for twenty-one days. This book is designed to help you modify your habits for life. BODY WISDOM: NATURAL HEALTH IN YOU is organized in such a way that all your individual substitutions will be for your favorite recipes. That way your customized program will keep you satisfied. Why would a satisfied eater choose the old toxic foods when the new ones taste better and leave you feeling great? There are several keys to succeeding with this—all offered in this book.
What should I expect as a result of following the program in this book?
BODY WISDOM: NATURAL HEALTH IN YOU | DETOX PROGRAM You can expect a new, healthier, vibrant you!! This book is not just limited to how you cook. The sky is the limit for your on-going process of setting goals and achieving them. For example, if you have transitioned your kitchen and household products and are already cooking perfectly for your body's needs, then why not make new plans to incorporate exercise, meditation goals and a plan for handling emotions? The trademarked behavior modification program has been successful over 6,000 times— so you can expect success.